The Summer Immersion Advisory Board is a group of administrators, faculty, staff, and students. Throughout the year, the advisory board meets to organize the Summer Immersion Program.
---
Andrew Bush received his Ph.D. in comparative literature from Yale University in 1983 and arrived at Vassar the following fall. Joining the Department of Hispanic Studies as a teacher of Latin American literature, he shifted to teaching primarily Peninsular literature after several years, including service as the director of the Vassar-Wesleyan Program in Spain. He currently divides his teaching time evenly between Jewish Studies and Hispanic Studies, with ongoing research interests in both fields.
---
Brian Daly is a Professor of Physics at Vassar. Brian's research interests are thermal and acoustic phenomena in thin solid films and nanostructures as studied by ultrafast laser experiments. Prior to coming to Vassar in 2005, he worked for three years as a postdoctoral research fellow at the Center for Ultrafast Optical Science at the University of Michigan, Ann Arbor. He is co-author of 20 articles and letters in peer-reviewed journals. He has received four National Science Foundation research grants totaling over $900,000. Brian and his students present research at national and international conferences.
---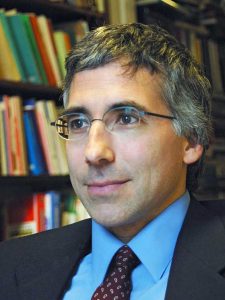 Andrew Davison joined the faculty in 1996 after receiving his PhD from the University of Minnesota. His scholarly work addresses topics of secularity, borders, modernity, ideology, coloniality, otherness, conversation, and datafication from the perspective of hermeneutic political inquiry. His recent advanced courses include Interpreting Politics, Reconsidering Western Political Thought, and Seminar in Political Theory.
---
Lisa Radhika Kaul grew up in India and went to England for graduate school where she experienced being away from "home" for the first time. She vividly remembers simultaneously feeling out of place, overwhelmed, and yet excited and thrilled for herself. Lisa is a social and cultural anthropologist by training and the Director of the Office of Community-Engaged Learning at Vassar. Her office builds reciprocal relationships with community partners to provide students with experiential opportunities mentored by faculty that help them integrate and deepen classroom learning with real life experience. "Our goal is to empower our students to become engaged citizens while supporting the work of our partners."
---
Sarah Pearlman is an Associate Professor of Economics at Vassar College. She joined Vassar after finishing her Ph.D. at the University of Maryland, and teaches classes in gender economics, finance, econometrics, and Latin American economic development. Her research is in the area of development and labor economics, with a focus on households and small firms in Latin America. Her recent work focuses on the impact of migration on labor markets in Mexico and on the determinants of women's occupational choice in the U.S.
---
José Perillán is an Assistant Professor at Vassar College with a joint appointment in the Department of Physics and Astronomy & the Science, Technology, and Society (STS) multidisciplinary program. In addition to his multidisciplinary teaching load, Perillán's current book project focuses on the effects of scientist-storytellers on the teaching, practice, and public perception of science. As a graduate student working towards a joint doctorate in physics and history at the University of Rochester, Perillán worked as a councilor and taught summer immersion courses related to their Higher Education Opportunities Program (HEOP). He is looking forward to collaborating with the EPI Summer Immersion in the Liberal Arts program, and bringing a perspective that challenges traditional disciplinary boundaries while bridging the natural sciences and other curricular divisions at the College.
---
Tim Koechlin is the Director of Vassar College's International Studies Program, and a Senior Lecturer in International Studies and Urban Studies. Tim earned his Ph. D. in economics from the University of Massachusetts-Amherst in 1989. Before arriving at Vassar in 2001, Tim taught economics at Smith College and Skidmore College, where he was a tenured member of the economics department. In addition to his work in International Studies and Urban Studies at Vassar, Tim is a member of the steering committee of Vassar's Latin American and Latino/a Studies Program (LALS).
Tim has taught and written about a variety of subjects including globalization, inequality, urban political economy, economic development, macroeconomic policy, international investment, NAFTA, and alternative economic theory.
Tim Koechlin is the proud parent of 3 children, and a life-long fan of the Boston Red Sox.
---
Himadeep Muppidi is Professor of Political Science and serves on the steering committees of the programs in International Studies and Asian Studies. His research and teaching interests are in the areas of globalization, critical international relations, South Asian politics and postcolonial theory.
---
Dr. Matthew Schultz directs the Vassar College Writing Center. He also co-chairs the Writing Subcommittee of the Committee on Curricular Policy and serves on the Media Studies Steering Committee. Matt earned his B.A. (2003) and M.A. (2005) in English Literature at John Caroll University and his Ph.D. in English Literature from Saint Louis University (2010) where he specialized in Irish Studies, Literary Modernism, and Postcolonial Theory. His teaching and research interests also include comparative literature, creative writing, and multimodal rhetoric. Matt is the author of four books and has published two-dozen articles on literature and literary history, teaching undergraduates, and writing center administration.
---
Dr. Schwarz is an associate professor of Biology with participation in the Biochemistry and Environmental Studies programs. She works with students to become integrative thinkers of biology both in and out of the classroom. Her research lab studies coral symbiosis and genomics. She serves as Program Director for Vassar's Grand Challenges program, an initiative to foster an inclusive community of scholars and learners working together to tackle complex issues of global significance, funded through the Howard Hughes Medical Institute program for Inclusive Excellence.
---
Henry J. Molina is the Engaged Pluralism Initiative's Qualitative Research and Curriculum Engagement Associate. A Vassar alum from the class of 2019, as a student Henry studied Cognitive Science with a concentration in Language and Communication. In his current role Henry's work is centered on inclusion, using research on community to contribute to EPI's efforts to forge transformative relationships on Vassar's campus and beyond. As a first-gen student, he is excited to welcome the students participating in Summer Immersion in the Liberal Arts, to hear their stories, and to learn from them and alongside them during the program.
---
Candice Lowe-Swift has been on the Vassar faculty since 2004, and is currently an Associate Professor of Anthropology, Africana Studies and International Studies, as well as the Director of the Engaged Pluralism Initiative and Special Advisor to the College on Inclusion and Engaged Pluralism. She teaches courses on the Indian Ocean, Cultural Anthropology, Research Methods, the Anthropology of Food, and Globalization. Her research interest is in networks of the Indian Ocean, with a particular focus on Mauritius and diasporans from Africa, India, China, Europe, and the Middle East. At Vassar, she seeks to understand and address challenges faced by all students—especially first-generation, low-income, and historically underrepresented students, which is why she devoted to herself to bringing Vassar's Summer Immersion in the Liberal Arts to life. This year, she will serve as Director of the Summer Immersion in the Liberal Arts program.